Real Estate
Real estate has always been a preferred investment option and an intelligent solution against inflation. According to comprehensive market analysis, India will continue to experience the current boom in real estate sector. With the economy on the right growth track, prime properties can fetch excellent returns on reasonable terms. Banks, of course, are always willing to lend against property. Stringent government regulations and the fact that ROI deals only with developers having proven track record makes it a safe option for you to invest in the property, recommended by us.

Being India's leading real estate consultancy and having a strong global presence, ROI can guide you in finding the best property investment in India. The list of projects range from commercial spaces, with over 9-10% return on lease or rental alone, to early bird deals in upcoming residential developments, where one could expect 15-50% returns per annum, in a year-on-year cycle. We exclusively represent only the top real estate developers of India, to provide a wide range of choices to resident Indians, NRIs and global buyers.
Resident Indians
Micro - Schools, Colleges, Hospitals, Malls, Clubs etc. around the property...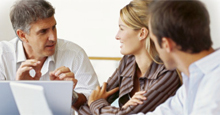 NRIs
With the economy on the growth track, prime properties can fetch excellent...
Corporates
Accessibility issues, Review disperse of relevant residential micro markets...

Real Estate
Relocation
Developers Consulting
REIT Consulting
Retail and Institutional
Architecture